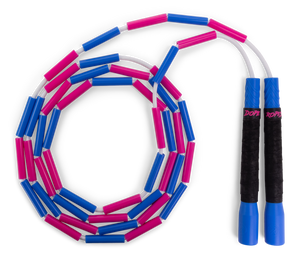 Recommended for higher intensity workouts!
Weighing just under 1/2 lb, this is a heavy variant of a beaded rope with thicker beads and thick PVC cable core.  This ropes adds additional weight to traditional 5mm cable ropes and beaded ropes. Ideal for fitness jumping as the extra weight provides a more intense workout. 
Specifications
Cord length - 10ft (adjustable to any height)
2 inch heavy beads - 7 mm inner diameter and 10mm outer diameter
High quality shatter proof plastic beads.

Hand beaded in the USA! Note that beads will scratch and get scuffed when used on harsh surfaces but this does not affect the functionality of the rope and the 

beads

 themselves only wear down over a long period of time due to slow erosion.

Circa 200g in weight (just under 1/2 pound!)
8" Long handles: Good for adults and freestyle. Unbreakable Elite SRS low-density polyethylene 8" handle (low profile grip tape optional) / 1oz weight (each handle) / .9" diameter at end. These handles

 also come with a 

lifetime guarantee

! We are so confident in our handles that if they break, we will replace them one time for free!

Made in collaboration with Elite SRS to create unbreakable handles that are passed with both our marks of quality. 
(Note - the 5mm PVC core of this rope is usually black or white (this can't be selected and varies depending on stock levels)
Make sure to check out our instructions and care page and beginners guide before you start using your rope which gives you info on how to adjust our ropes and how to get started!
⚠️ Jump ropes can and will sting on impact! Use at your own risk ⚠️ 
Haven't used a beaded jump rope since my days in grade school. This is definitely gonna be my favorite lightweight Rope
The perfect amount of added weight as I improve my jump rope skills! Really noticing the change in my arms!
Love it!
Nice mid weight rope to get the cardio up! Love it!
A workout!
I bought the 2.0 - Fitness (5mm), 2.0 - weighted (6mm), and this Heavyweight Beaded two months ago. This rope is substantial: 214grams @ my size where the 2.0 weighted version is 126g. I've struggled to figure out the fitting of the rope due to the beads and long handles BUT the Dope Ropes team has the best Customer Service. I'm unsure how long the grip (and grip tape) but those were not selling points for me and don't impact my enjoyment of the rope. I bought this rope for the workout and it brings it: specifically targeting my arms, shoulders and posture/core more with the weight. My favorite rope is the Cardio 2.0 - Weighted 6mm model and this may be my least used rope but it's worth having it for when I'm really looking for a GOOD workout.
Great rope, great customer service
This is my third Dope Rope as I keep buying heavier ones to add to my routine. I'm always amazed at how quickly they are delivered and the quality of the ropes!